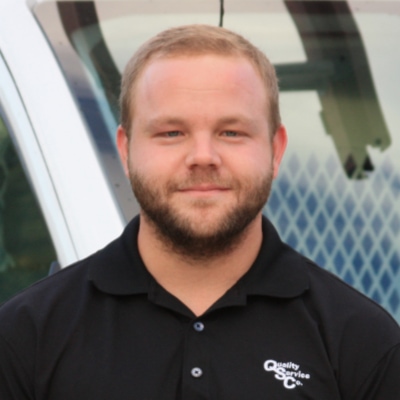 Allen Duffy
Service Technician
8 Reviews
Air Conditioner Repair in Florence, SC 29501
"EXCELLENT SERVICE, EXCELLENT TECHNICIAN. Allen D. was very professional and extremely knowledgeable in fixing the air conditioner. He assessed the problem, provided the estimate and started work immediately. This air conditioner quit working on April 15th and I had two different contractors come to fix it and neither one got the job done in 75 days. Quality Service Co. was quick, honest and precise. I had only called them about two hours before Allen arrived. From initial phone call to completion of work was less than six hours total time. Allen didn't waste any time, but the amount of work required to complete this repair took about three and one half hours. Allen took the time to check and double check the repair was done right and unit working properly. I wish I would have called Quality Service Co, 75 days ago. Highly recommended Company and Technician. I can't thank them enough."
– JAMES H.
Air Conditioner Repair in Florence, SC 29501
"Got home and air conditioner was off. Called Quality and Allen was very courteous. He said he had two other calls and then would be at our house. He was there in less than 2 1/2 hours. Had my air conditioner going in just a few minutes. Was very courteous, personable, and professional. Just a joy to deal with and I have full confidence in his ability."
– Tommy P.
Air Conditioner Replacement in Florence, SC 29505
"This is our second experience with Quality Service Co. Our AC unit that serviced our upstairs went out and needed to be replaced. We had another company come in and evaluate the old unit and they informed us that they could repair with no problem. Their diagnoses sounded questionable so I called and Allen came out that afternoon and looked at the situation. His diagnoses was if they repaired it, I would be looking at future repairs because of where the damage was. Within just a couple hours the new unit installation was scheduled and financing was done. Within a couple days they arrived early and the old unit was removed and the new unit was being installed. This team was not only professonal, and courteous, but they left the work area in better conditon than they found it. They took the time to explain what they did and ensure I had no questions.
This team has the best when it comes to work ethics and professionalism. I have not seen this in very many companies in the past few years. I would highly recommend this company, team and individuals to repair, install or replace any AC unit or Gas Pack to anyone needing thier unit taken care of. Since I am limited to 5 stars I guess I will stop there, but they are really off the top of the chart."
– Maxwel l B.
Air Conditioner Installation in Florence, SC 29501
"Great Company. Very professional and knowledgeable. Worked quickly and efficiently."
– Tracey W.
Air Conditioner Installation in Florence, SC 29505
"Great Service. Mr. Duffy explained everything and gave me numerous options. The installers were on time."
– David C.
Heat Pump Installation in Florence, SC 29505
"You guys were great! Excellent service! I love my gas pack!"
– Ray G.
HVAC System Replacement
"On 8:00 on Sunday morning, our system failed with temps going down into the teens. I called the company I had used for over 30 years. After an hour with no response and a second call (still with no response), I contacted Quality Service Co. Luckily, my system came back on so I did not require an emergency call but I still called to have Quality to check it on Monday. They called at 7:30 a.m. to set up a time and had a tech at my house an hour later. Matt determined the issue and even checked on warranty for me. We decided to check into replacement instead of repair. Allen Duffy was at my door an hour later. He presented me with a proposal including payment options and information on the complete system. We made the decision to replace. Allen ordered our new system with a promise of installation on Tuesday.
At 8:03 Tuesday morning, the team pulled in my driveway ready to begin work. The work was completed later that day. Allen also came back to help me get acquainted with the new programmable thermostat. Today (Wednesday) he came back and installed a surge protector on it. He brought all of my paperwork which included the forms for Energy rebates. They had already been filed. In addition, the installation team replaced the pad underneath the unit as well as cleaning and mulching around the unit. They also replaced the breaker in the breaker box because ours was too large.
Their work was superior and I was treated with the utmost respect and courtesy by every employee during the whole process. I cannot thank them enough for all of their assistance. Everyone helped make the process as painless as possible. I was new to their company but they treated me as if I was a long-time customer. I highly recommend them. You will not be sorry."
– Susan S.
Heat Pump and Air Handler Installation
"My heating and air conditioning units have been serviced by Quality Service Co since October of 2011, and it is my pleasure to rate them as 'the top of the line'. From day one, Chris McDonald explained the background of his company and what I could expect from his staff and employees.
The maintenance contract has been honored on time and the technicians and office staff are polite, prompt and well informed.
The installation of a heat pump and air handler (Trane) was completed Wed, 1/11/17, and this huge job had the attention of caring and competent workers who impressed me with their attention to my household care while they worked so hard!
Special accolades to Allen Duffy who has solved many heating/cooling problems for me… I'd like to think he is now not only a rep, but a friend. I have referred many of my acquaintances to Quality Service and will continue to do so."
– M. M. Kennedy
---
Quality Service Company services Florence, Darlington, Hartsville, Lamar, Marion, Pamplico, Timmonsville, and the surrounding South Carolina communities with their heating and cooling needs. Visit our service area page for more coverage details, call us at 843-773-2550, or request service online today.