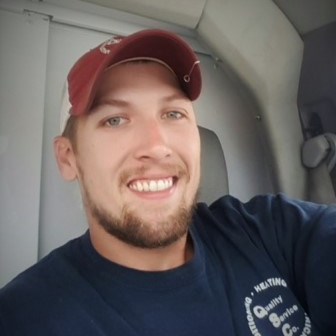 Matt Hicks
Lead Service Technician
6 Reviews
Air Conditioner Repair in Florence, SC 29501
Air Conditioner Maintenance in Florence, SC 29501
"Was very pleased with Matt's Knowledge and speed of service. Will use you guys again in the future due to matt's professionalism."
– James T.
Air Duct Replacement in Florence, SC 29501
"I would never deal with anyone other than Quality Service Company for my heating/air conditioning needs. From my initial call with a problem with my heat pump a year or so ago, through the installation and subsequent service agreement calls, Quality has been able to address my issues promptly. They were always prepared to explain the issues with me, as well as my choices. Most recently, I had an unrelated issue. Again, from my initial call through the completion of the service, everything was done with professionalism and in a timely manner. When I called the office to submit payment, I was reminded that I had a $50 credit I could use! What a pleasant surprise."
– Debbie B.
Heat Pump Repair in Hartsville, SC 29079
"Worked nonstop for 4 hours. Determined to find problem and fix it. Very impressive."
– Meredith M.
Heat Pump Repair in Florence, SC 29501
"Matt was prompt, professional, and efficient. He quickly diagnosed the problem, presented a written estimate, then made the repairs w/o delay. This is the second time I've used Quality Service for my HVAC needs and would highly recommend them."
– Michael G.
HVAC System Replacement
"On 8:00 on Sunday morning, our system failed with temps going down into the teens. I called the company I had used for over 30 years. After an hour with no response and a second call (still with no response), I contacted Quality Service Co. Luckily, my system came back on so I did not require an emergency call but I still called to have Quality to check it on Monday. They called at 7:30 a.m. to set up a time and had a tech at my house an hour later. Matt determined the issue and even checked on warranty for me. We decided to check into replacement instead of repair. Allen Duffy was at my door an hour later. He presented me with a proposal including payment options and information on the complete system. We made the decision to replace. Allen ordered our new system with a promise of installation on Tuesday.
At 8:03 Tuesday morning, the team pulled in my driveway ready to begin work. The work was completed later that day. Allen also came back to help me get acquainted with the new programmable thermostat. Today (Wednesday) he came back and installed a surge protector on it. He brought all of my paperwork which included the forms for Energy rebates. They had already been filed. In addition, the installation team replaced the pad underneath the unit as well as cleaning and mulching around the unit. They also replaced the breaker in the breaker box because ours was too large.
Their work was superior and I was treated with the utmost respect and courtesy by every employee during the whole process. I cannot thank them enough for all of their assistance. Everyone helped make the process as painless as possible. I was new to their company but they treated me as if I was a long-time customer. I highly recommend them. You will not be sorry."
– Susan S.
---
Quality Service Company services Florence, Darlington, Hartsville, Lamar, Marion, Pamplico, Timmonsville, and the surrounding South Carolina communities with their heating and cooling needs. Visit our service area page for more coverage details, call us at 843-773-2550, or request service online today.