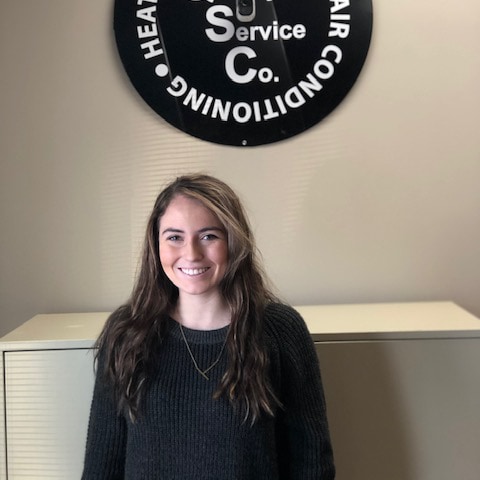 Tori Alexander
Dispatcher
7 Reviews
Air Conditioner Repair in Florence, SC 29505
"I wish I could give 10 stars! Our Carrier unit went out on one of the hottest days of summer. The initial call with Tori was great and she was able to schedule a technician quickly within a few hours.
Mr. Domingo H. was our technician and his knowledge of our complicated unit was amazing. He was courteous in answering our questions, quickly diagnosed the issue with a fair quote for repair.
Mr. Domingo picked up the parts needed and returned to promptly fix the problem. He explained what was repaired and gave suggestions to keep the unit running well.
The professionalism, trade skills and customer service we experienced was outstanding. We are very grateful for Quality Service Co. and will continue to use them in the future!"
– Katherine M.
Air Conditioner Repair in Timmonsville, SC 29161
"My ac unit wasn't cooling the house down like it normally has in the past. I called Quality Service. Spoke with Tori, explained to her everything the best I could. She scheduled up an appointment. Jonathan was very helpful and explained things to where I could understand what was going on. He made the repair needed and checked to make sure everything else was working right. My family and I are so thankful for the Quality Service team!"
– Kristen B.
Heat Pump Installation in Florence, SC 29501
"What a great team!!! Office staff kept me informed on when my new heat pump was expected and Domingo kept my old one running just long enough for my new one to arrive…..the office staff (Kym and Tori) "had mercy on me" and immediately scheduled the installation. The crew arrived early on the scheduled date and had the unit working (putting out WONDERFULLY cold air) about 4 hours later……..I highly recommend these folks and will always do any heat pump related work at my house with them!!"
– Mike G.
Air Conditioner Repair in Florence, SC 29506
"Tori and Kymberly have great customer service and made sure to get someone as soon as possible. Quality made sure we had air by the end of the night! We can always count on them!"
– Robbie W.
Whole House Generator Repair in Florence, SC 29505
"I am a new customer and experienced a catastrophic Generac generator failure. QSC is certified by Generac and responded immediately. The repair plan was executed perfectly. The whole team worked with me to manage the process effectively and efficiently. Many thanks for your technical expertise and for managing the overall billing with integrity."
– Robby S.
Heat Pump Repair in Florence, SC 29501
"We have been very pleased with the staff in the office and the techs sent to our house. In particular, Tori and Domingo."
– M and J W.
Heat Pump Installation in Hartsville, SC 29550
"As a senior citizen, on a fixed income, when a major home expense arises I can assure everyone that I do an intense research of all my options! That's exactly what I did when I recently needed a new heating and cooling system. QUALITY SERVICE CO. LLC came out above all others and they exceeded my expectations! Tori was my phone contact and was always patient, polite and very prompt in returning calls with information I requested. Chris showed the same courtesies when he came to my home to inform me of the products and prices his company has to offer. At my request, by phone, he did indeed show up with a mask (covid-19 safety) and continued to wear it until he was back in his truck. Once I made my decision, the work was scheduled. Justin and Deven were on time and worked diligently to remove my old system before starting the new install. But if I asked a question, they would pause long enough to answer my question politely and then resume their work. Glen was also involved in seeing that all was progressing well and helped make my new system perfect, to the smallest detail. I've got to mention Tori again, she was a pro with all the paper work and thanks to her, my one trip to the office obtained the partial financing I needed and I've already received my Duke Energy rebate. Glen told me about the REME-HALO, a new advanced environmental air treatment system that can be placed in the HVAC. It was an optional additional expense but instead of waking up coughing, I now wake up with odorless air that reminds me of a fresh mountain breeze. Also, at no time did I ever feel pressured to hire their company or buy any of their products. It felt more like family taking care of family and the job wasn't finished until Glen, Justin and Deven knew I was completely satisfied with my new system. I would highly recommend QUALITY SERVICE CO. LLC to anyone!!!"
– Elaine K.
---
Quality Service Company services Florence, Darlington, Hartsville, Lamar, Marion, Pamplico, Timmonsville, and the surrounding South Carolina communities with their heating and cooling needs. Visit our service area page for more coverage details, call us at 843-252-0360 today.