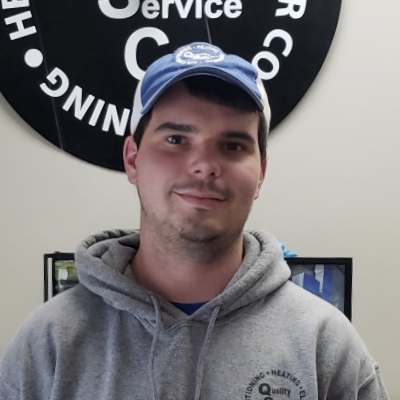 Brett Smith
Service Technician
10 Reviews
Whole House Generator Repair in Florence, SC 29505
"I am a new customer and experienced a catastrophic Generac generator failure. QSC is certified by Generac and responded immediately. The repair plan was executed perfectly. The whole team worked with me to manage the process effectively and efficiently. Many thanks for your technical expertise and for managing the overall billing with integrity."
– Robby S.
Whole House Generator Installation in Florence, SC 29505
"They installed my generator and were very professional and courteous. They notified me of the steps in the process ahead of time, were neat, and cleaned up their work area. The techs also explained the operation and maintenance in detail, as well as performed the start-up."
– Trudy A.
Heat Pump Repair in Florence, SC 29505
"Excellent service, fast response, very professional, had the unit working before they left."
– Trudy A.
Air Conditioner Replacement in Hartsville, SC 29550
"The techs were courteous and professional."
– David C.
Heat Pump Installation in Florence, SC 29505
"Our 23 year old Trane unit bit the dust this past Sunday. I called QSC Monday morning at 8:00 AM. Matt Hicks was at my home to discuss my options at 9:00 AM. We decided to go with the Daikin heat pump because of their favorable reviews and the fact that they offer an unbelievable 12 year warranty on parts and labor.
Tuesday morning at 7:30 AM Brett and his assistant were at our home to install our new Daikin system. Glenn arrived a little later to lend his expertise. By 3:30 PM, our system was in place and operating better than we expected. Brett and his assistant even landscaped the area and washed it down when they finished.
I normally do not write reviews, but this company deserves an exceptional review. The following employees were in constant contact with us to insure our complete satisfaction: Amanda, Matt, Tori, Brett and Glenn."
– Don S.
Other Replacement in Timmonsville, SC 29161
"Five stars is not enough. These guys were amazing. We had our whole house rewired. Matt told us 6 to 10 days, well they got it all done in 7 days. We are SOOO impressed by these three and the whole company. We also had our HVAC replaced before the electric was done. I would use y'all again and would recommend to everyone that's looking for small or big projects. I can't say enough about Matt, Brett and Wayne. Thank you for everything."
– Michelle and Carl K.
Heat Pump Replacement in Other, SC 29536
"The service could not have been better! Brett & Bruce arrived on time to replace my heat pump and did a fantastic job, leaving the area looking better than I expected. The guys even helped with loading my old heat pump onto my trailer! I highly recommend Quality Service Company for all your home service needs."
– Cody H.
Air Conditioner Maintenance in Florence, SC 29501
"I've used this company before and had a great experience. Brett came out and worked on our unit. He was very quick and knowledgeable of the work that was needed to be done. The service was great, and once again a great experience."
– Kendra D.
Air Conditioner Repair in Florence, SC 29506
"Brett is a very knowledgeable and courteous young man. He explained the problem in terms that we could understand. He corrected the problem to our satisfaction. He is very professional. The young man left a positive impression on us. Whenever possible, please send him again whenever we have a problem.
Thanks, David and Carolyn Johnson"
– David J.
Air Conditioner Repair in Florence, SC 29505
"Brett came out on my repair call and replaced the compressor on my a/c. About two years ago he came with someone else as a trainee but has now become a highly qualified tech. I watched as he worked and was satisfied that he was a true professional and that the job would be done right.
Chris I believe you have a top notch man in brett and that he is an asset to your team of qualified people."
– Donald K.
---
Quality Service Company services Florence, Darlington, Hartsville, Lamar, Marion, Pamplico, Timmonsville, and the surrounding South Carolina communities with their heating and cooling needs. Visit our service area page for more coverage details, call us at 843-773-2550, or request service online today.